At Youville Centre, Mother's Day is a very special occasion — so much so that we celebrate it all month long!
This is Skylar, and her son Theo
As a mom, what Skylar wants most in this world is for her child to feel safe, secure, and loved. Skylar's journey at Youville Centre has allowed her to provide opportunities for her son to grow, thrive, and learn; and she has become a strong, confident parent and young woman with a bright future ahead of her.
Skylar didn't do this alone — help from donors like you made it possible. 
When you choose to make a donation to Youville Centre each Mother's Day in our annual campaign, your contribution is making it possible for young moms like Skylar to succeed in ways they never thought possible. The impact of your gift doesn't stop there; you are also making a healthy, bright future possible for the children of Youville's young moms — children like Skylar's son Theo.
"It takes a village to raise a child" is not just a saying at Youville Centre — it's a reality. You are part of our village, and we could not continue to provide opportunities for improved mental health, education, and child development for the moms and children at Youville Centre without your help.
Here is Skylar's story — please consider giving a gift so that young moms and children at Youville Centre can continue to benefit from the same opportunities she and her son were able to access. Click here to donate now.
I am a mother. And like all mothers, my dream for my son is to live a happy and healthy life. I want nothing more than for him to have a bright future.
Thanks to Youville Centre, that dream is now a possibility.
My life wasn't good in high school. I made a lot of bad decisions and I hung out with the wrong people…it was a really difficult time for me.
Then at only 15 years old, I got pregnant. I was fortunate that my family was supportive of me and my choice to have my baby. I'm so grateful to them because so many other girls in my situation have no support.
But even with my family's help, I still don't know where I would be today without Youville Centre, and without the kindness of donors like you.
Mother's Day is just around the corner and I'm hoping you might make a donation that will provide young moms like me with the education and support they need. Your gift will mean hope for a better future for two generations. Not only will your donation mean the world for a young mother and her baby but every dollar you give during the month of May will be generously matched by one of our caring donors!
After my son Theo was born, I spent a year at my mom's house taking care of him, but I knew that I needed to go back to school, get my diploma and make something of myself – not just for my future, but for my baby's.
I heard about Youville Centre from one of my high school teachers. And then my best friend enrolled and she had so many good things to say about it. So when I started at Youville in September 2018, I was really excited and hopeful…I felt as though my life, and my baby's life, was about to change for the better.
I met with a Youville counsellor right away…I really liked her and I loved our weekly meetings. She made me feel comfortable, unlike many other counsellors I had seen in the past…I always felt judged, but with my counsellor I felt zero judgment and I felt like I could tell her anything.
If I was having a bad day, she would make the time to see me, even if it wasn't our day to meet. I knew that she genuinely cared about me.
It was scary to put Theo into the Child Development Program for the first time, but the comfort of having my baby in the same building as me, while I attended class, was exactly what I needed to work on myself and finish school.
To be honest, there's no other Child Development Program like the one at Youville, it's just so good. The child development staff have a deep bond with the babies and the moms get to the know the child care staff so well. When I would drop Theo off, I always felt like I was leaving him with a close family member.
My teachers were also great, they made me feel like I could achieve anything. In the one year I spent at Youville, I completed high school…I even took university preparation courses. They were hard, but I was determined.
It's the kind-hearted support from community donors and Youville that gave me that determination…they're like a family, really.
Mother's Day is a special occasion at Youville – the Intensive Treatment Support Team go all out to make the girls feel special and loved. They host a lunch for all the moms and babies and every mom receives a flower and a self-care package. I remember the package had chocolate, face masks, body lotions, bath bombs, nail polish and even makeup – which was a real treat for us. The child care staff would help the babies and children make special Mother's Day crafts for the moms. I have kept all of Theo's crafts, they are so special to me.
No one else in our lives really does that kind of stuff for us, we are all just so grateful – for many of the girls, they feel special for the first time.
Some of the girls who come to Youville Centre have a strained family life. Youville steps up and becomes that family for us, in so many ways. Our community feels like an extended family of supporters, cheering us on along the way.
And even though I'm no longer at Youville, I will always feel that connection, love and support. I have the Alumnae/Transition Support Program to thank for that.
This program is still in its early stages, but I already know it's an important part of the Youville experience. The days, weeks and months after graduation can be really scary for the moms. We become so reliant on the staff and services at Youville, that it's hard for us to imagine life without that support. The Alumnae Outreach Program ensures that our connection to the staff and each other isn't lost once we graduate.
The Alumnae/Transition Program Manager, is always there for us.
Youville has set up a designated phone specifically for the alumnae girls and we can reach out any time. She lets us know about things going on in the community like job opportunities and workshops. She checks in on us to see how we're doing in our post Youville lives. And if we need her, she's available for in-person sessions… she will even come with us to counselling appointments!
She has become my rock.
We've been so lucky to have her this past year, but we need community support more than ever in order to keep this important program running.
Once a month, the graduates in the program get together – sometimes with our children and sometimes without – and we do fun activities. It's called the Alumnae Café. So far, we've done a cooking class, had a breakfast at the Centre, gathered for an Ottawa 67s game, and enjoyed a Christmas lunch together.
These activities keep us connected and show moms like me that Youville is still by our side throughout our journey.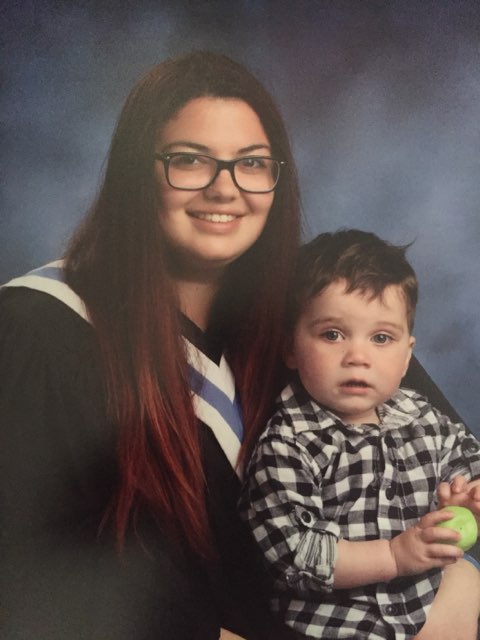 I am so proud of how far I have come since the first day I walked through the doors at Youville. Today, I am a successful student in my second year of History at Carleton University. I was always determined to attend university – in spite of the obstacles I faced.
I was wearing my Youville sweater one day at Carleton and a woman stopped and asked me if I had attended. I told her that I was a recent graduate, and she shared with me that her daughter and granddaughter (who is now 9 years old) also attended Youville years ago. She looked at me and said, "Just know that I am so proud of you. Youville is such a special place." I was so moved, I started to cry.
That chance meeting really showed me that Youville is a family…we are forever connected through our stories of our past and through our dreams for our future. I am proud of my story. I am proud of all that I have accomplished, and most importantly, I am proud of the mom I have become for Theo.
My future and Theo's is brighter than ever because of the generosity of caring donors.
Will you please join me today to ensure that young mothers and their children continue to have this safe and supportive place? Every dollar you donate during the month of May will be matched by a generous donor in the community.
Sometime in the next few years, I want you to have the opportunity to read another story just like this one, from another young mother like me, telling her story of success – all because of your caring gift today.
Please consider taking a minute now to make a Mother's Day donation to the Youville Centre. You will be providing the gift of hope for two generations, and for that I can't thank you enough.
Sincerely,
Skylar
Mom to Theo, Youville Graduate and member of the Alumnae/Transition Support Program
Please select here to donate now for Youville Centre's May Matching campaign