At Youville Centre, Mother's Day is a very special occasion — so much so that we celebrate it all month long; for all of May 2023!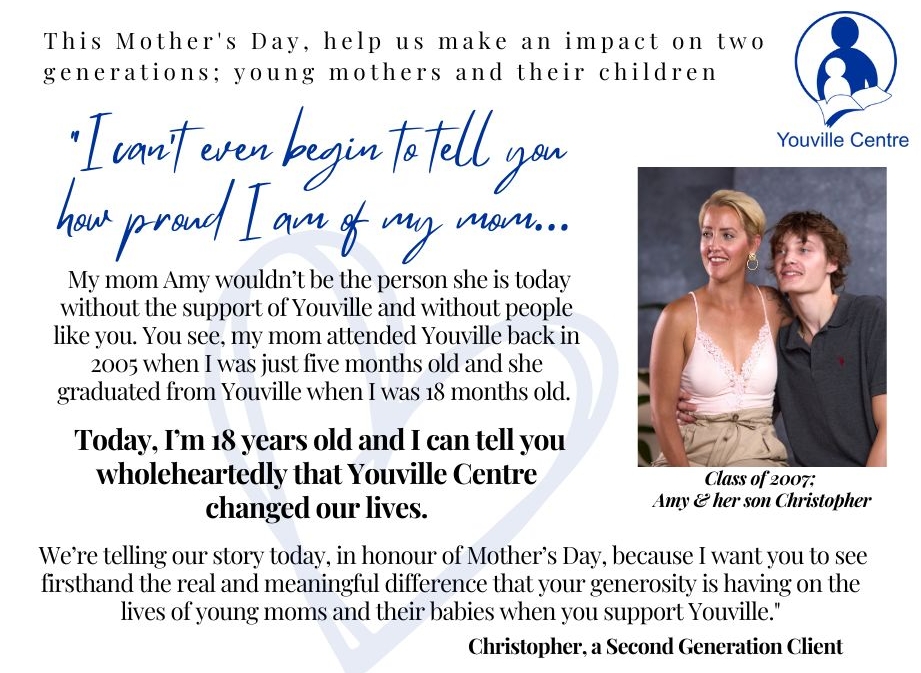 This is Amy and her son Christopher
As a mom, what Amy wants most in this world is for her child to feel safe, secure, and loved. Amy's  journey at Youville Centre allowed her to provide opportunities for her son to grow, thrive, and learn; and he is growing up to become a young man with a bright future ahead of him.
Amy didn't do this alone — help from donors like you made it possible. 
When you choose to make a donation to Youville Centre, your contribution is making it possible for young moms like Amy to succeed in ways they never thought possible. The impact of your gift doesn't stop there; you are also making a healthy, bright future possible for the children of Youville's young moms — children like Amy's son Christopher.
"It takes a village to raise a child" is not just a saying at Youville Centre — it's a reality. You are part of our village, and we could not continue to provide opportunities for improved mental health, education, and child development for the moms and children at Youville Centre without your help.
Here is Amy & Christopher's story — please consider giving a gift so that young moms and children at Youville Centre can continue to benefit from the same opportunities she and her son were able to access. 
I can't even begin to tell you how proud I am of my mom… 
But before I tell you about her story – and mine – I want to thank you.
I want to thank you for being there for the young moms who depend on Youville Centre to better their lives for themselves and for their babies. Because of people like you who care, these moms are finishing their secondary school education, receiving mental health support and parenting education, while child development teachers are providing care to their babies – all under one roof.
My mom Amy wouldn't be the person she is today without the support of Youville and without people like you. You see, my mom attended Youville back in 2005 when I was just five months old and she graduated from Youville when I was 18 months old.
Today, I'm 18 years old and I can tell you wholeheartedly that Youville Centre changed our lives.
We're telling our story today, in honour of Mother's Day, because I want you to see firsthand the real and meaningful difference that your generosity is having on the lives of young moms and their babies when you support Youville.
Our story is a testament to past generosity and when you donate now, you can rest assured that your gift today will have an impact on another mom and baby in five, ten, fifteen, twenty years and beyond.
I hope that Youville Centre can count on you for a special Mother's Day gift right now, to help all the other young moms and babies who are struggling in this very moment.
Your gift of $75, $50 or even $25 will help provide young moms with the essential mental health support and resources they need to continue their education, while their babies receive exceptional care in the child development program. Your gift will also help with access to essential items like food and diapers, that are often unaffordable for young moms who have little to no support in their lives.
My mom is a single mom, raising me and my little brother. She started her own successful business, she keeps the house running and she takes care of our four dogs – they're a lot more work than us humans! She's my best friend. We tell each other everything. I can come to her at any time and tell her I'm struggling or need help with something and she's always there for me, no matter what. So, when I forget to get her a Mother's Day card, I tell her that every day is Mother's Day in our house – and she always agrees!
But in all seriousness, my mom is my hero. And now that I'm 18, I can see how far she's come and I can actually understand the hardships she's faced.
And aside from the day-to-day stuff, I think I'm most proud of my mom for choosing a path in life that she knew wouldn't be an easy one, but one that would provide a better life for both of us.
The choices we make as teenagers are never easy and especially when they involve another life. She chose a path that was less travelled, but thanks to caring people like you, she came out at the end of that path stronger than ever.
My mom, Amy, wanted to send you her own note, to thank you:
Because someone like you cared almost two decades ago…
When I think back to being 18 years old and pregnant, I was terrified.
I wasn't sure if I was going to be able to handle this brand-new life that was about to come forth. I was fortunate to have a supportive mom who I lived with. My school friends were supportive, but they were going to parties, having fun, planning dances – you know, the typical teenage stuff. It was a completely different life than the one I was preparing for.
Although there weren't many resources at that time, I heard about Youville Centre from my high school guidance counselor. And I knew that was the place that I needed to be.
I know now that if Youville Centre didn't exist, I wouldn't be where I am today. Youville helped me progress in my life in ways that I otherwise wouldn't have been able to. I wouldn't have finished high school, gone on to post-secondary school or started my business. I'm so proud to be able to give back to the place where we started. Through my business, I provided two young moms at Youville with bursaries for their post-secondary education. When I was at Youville, I received a bursary of $1,000 and back then that was huge. It helped me prepare for school and purchase my books.
But even more importantly, it gave me confidence, knowing that someone out there in the world believed in me enough to invest in me.
Youville was my first glimpse into knowing that there's help and support out there – that you never have to struggle alone. We're telling our story today for two reasons. First, because I want other young mothers who might be struggling right now to know that there is light at the end of the tunnel and you just need to persevere through it. These challenges in life will teach you to be stronger, more mindful and more caring. And second, I want you to know that none of this would have been possible without Youville Centre, and most importantly, without people like you.
Our lives would have looked tremendously different without this place and I want to share my gratitude to all of Youville's supporters who are changing lives each and every day for several generations of young moms and babies.
Youville is so much more than just a school for young moms…
It's an incredible childcare centre – where the teachers truly care about the moms and babies. It's having access to regular mental health support, resources and one on one counselling – my counselor back in 2005 was the one who helped guide me through my application to college when I was lost and confused. It's a community of moms who are bonded by their life experiences – I still have some of the other moms on social media, almost 20 years later!
I could work on getting my education. I could work on our future as a family with Christopher. I could run downstairs during class and nurse my child or console him if he was crying. Simply put, it's one place under one roof, where hope continuously blooms. It's a place that changed our lives forever… Youville was the first step into the rest of our lives.
And I hope after reading our story, you'll feel inspired to help another young mom take her first step into the rest of her life, today.
With gratitude, Amy
Youville Centre Graduate, 2007
Today, I'm finishing my high school credits at an alternative school – the pandemic put me behind a little, but I'm almost done and will graduate soon. I'm also working full-time at my mom's business through a co-op. We clean new homes after they've been built. I love my job and the people we work with. My mom has inspired me to become an entrepreneur and start my own business one day.
Without even meeting me, you cared about me. Without even knowing my mom, you cared about her. You cared about our futures, our lives, our happiness, our safety. And for that we are forever grateful to you.
Will you take a minute to right now to send a special Mother's Day gift back to the moms at Youville, to show them that someone cares, just like my mom and I were shown almost two decades ago?
Christopher,
Second Generation Youville Centre client
P.S. Please consider a special Mother's Day donation today to help other young moms  complete their high school education and receive the mental health and parenting support they need to reach their full potential in life. 
When you give to Youville, you're helping two generations!
Please select here to donate now for Youville Centre's 2023 Mother's Day Giving Campaign;  Two Hearts, One Home: Learning and Growing Together at Youville Centre
Youville Centre's Spring 2023 Online Auction
Our first ever Online Auction fundraiser is now LIVE!
Visit the link HERE
(or scan the QR code) and check out the great items available to bid on over the next 13 days…the auction ends at 8pm on May 31st.
The date to pick up items won will be on Tuesday, June 6 from 12-7pm.
An alternate date/time will be arranged if winners are not available to come that date.
The online platform is easy to use – anyone with a link to the online auction can view it without having an account. An account (free) is needed in order to bid, and can easily be created with an email address and a few easy steps.
You
 can even add a setting so that the auction platform will "proxy" bid for 
you
, up to your maximum amount entered, so 
you
 don't miss bidding on any of your favourite items when 
you
 are busy.
Happy shopping!
Want to help us by printing a poster and putting it up somewhere?
Here is a LINK
. Thanks for your support!