Before I had the support from Youville and caring people like you, I was a troubled teenager…
I fell in with the wrong crowd, dating boys with substance problems, and experimenting with drugs at just 15 years old. I was getting in trouble a lot, then two years later I dropped out of high school. The drugs started to take over my life and I was soon using them to cope.
My parents didn't know how to deal with me. Amidst my challenges, my parents separated when I was 18, and my mom relocated to British Columbia with her new boyfriend. This added to the turmoil in my life, and things continued to get worse…
Then one day I woke up and I decided that this wasn't the life that I wanted for myself. I joined Narcotics Anonymous (NA) and began my journey to recovery. I'm proud that I've been clean since January 2021!
Shortly after, I met my boyfriend, Justin, and in May 2021, I found out that I was pregnant with my first son, Isaac. It wasn't the best timing because I was still early in my recovery. Isaac was born in February 2022 and just three months later, I found out that I was pregnant with my second son, Declan.
At this point I was terrified.
I didn't know if I could go through it all again – mentally, emotionally or physically. I was never diagnosed by a doctor, but now in retrospect I'm sure that I struggled with postpartum depression. But there was no other option for me because I knew that I wanted to have this second baby.
My dad's girlfriend at the time informed me about Youville Centre. I had no idea that Youville existed in our community, and the overwhelming sense of hope it brought me was beyond words. Hope to finish high school, while being an attentive and loving mom to two babies. And hope for a better life and a brighter tomorrow.
I immediately registered for Youville. It was the best decision I ever made for myself.
Today, I'm 23 years old and my life is filled with the kind of happiness I once could only dream about. But before I tell you about my journey with Youville, I'd like to take this opportunity to personally thank you.
It's thanks to your kindness that hundreds of young moms in our community, including me, have been given a chance at a better life – not just for one generation, but for two generations. My boys and I have a future filled with possibilities, thanks to you.
I have something I'd like to ask you today…
With the holiday season around the corner, would you consider sharing a special holiday gift with Youville Centre? Your generous support this holiday season will be vital for young moms and their babies who might be struggling right now, just like I was before coming to Youville.
My first day at Youville was a mix of excitement and nerves. I hadn't been in school in so long and I was isolated throughout my pregnancy and after Isaac was born. But my fears quickly vanished after I was warmly welcomed by everyone at Youville – from the staff to the other young moms.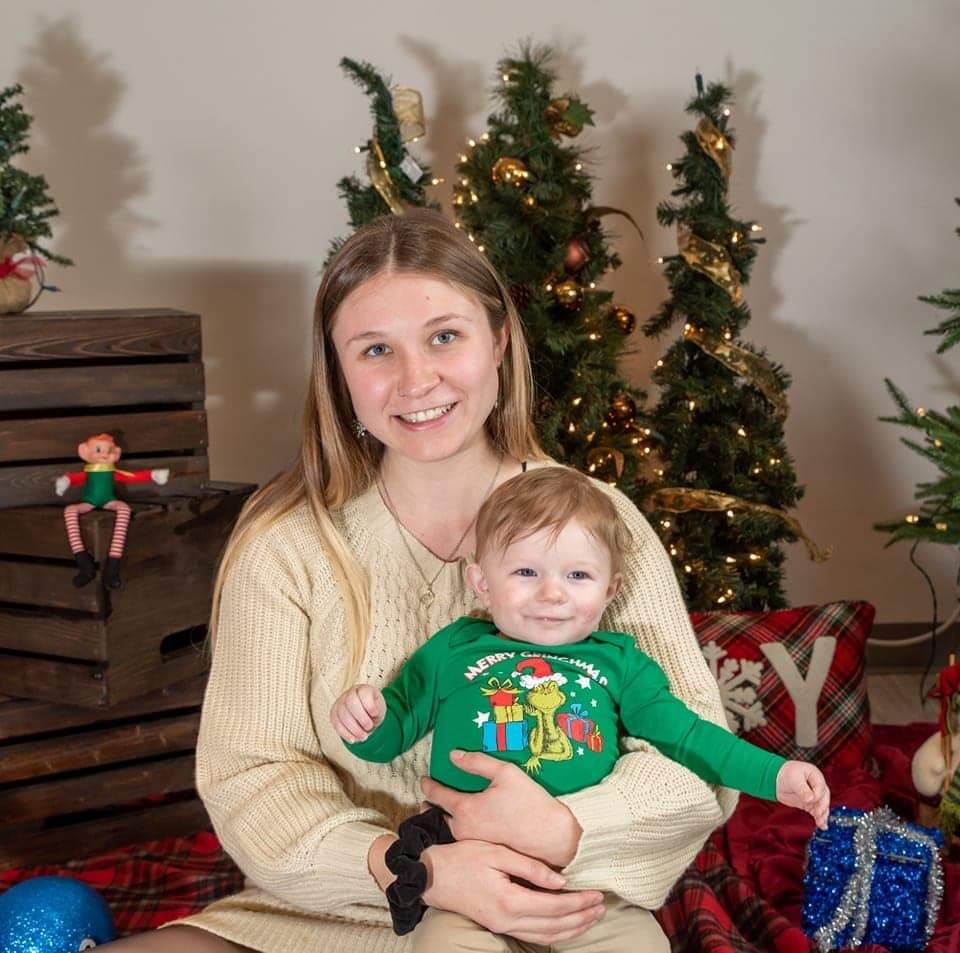 Since day one, I've been blown away by the amount of support we receive at Youville and I'm forever grateful to compassionate people like you for giving young moms like me a better future.
The Youville Intensive Treatment Support Program staff have been a big part of my support system. They've helped me in so many different ways, ranging from everyday tasks like connecting me to resources and helping me with online registrations, to teaching me new strategies to navigate my mental health. Before counselling, I felt like I couldn't be there for anyone else in my life – all of my focus was on bettering myself and figuring out how to move forward. And now, I'm back to helping others and I feel a sense of fulfillment again.
I'm so close with the other moms at Youville, we're just like a family here. We can talk about everything and anything and we're always helping each other out. And we make it comfortable for each other to open up without any judgment. It really helps to know that we're not alone.
One of my favourite programs at Youville is the ONFE Breakfast Program. Every student gets a free daily breakfast with lots of options. Mornings can be really hectic for us as moms, trying to get our kids ready, and out the door. But thanks to this program, I can have a nutritious meal and snacks at school, giving me the energy I need for the day ahead. While these might seem like small conveniences to some, these free meals have been life-changing for me and the other moms, especially with the high cost of food nowadays.
The Child Development Program at Youville has been transformative for me and my two boys. I developed an immediate trust in the Early Childhood Educators. Having the ability to drop my kids off to a safe space, with people who really care about them, and then head upstairs to concentrate on my education has been a huge relief for me. The reassurance of having my kids nearby is immeasurable.
I'm so proud of my boys. Isaac is 21 months old and Declan is 10 months old. Isaac is a curious and daring little boy, who constantly tests his limits, yet is also careful, smart, loving, and sweet. He loves the outdoors, climbing, and is fascinated with cars and trucks. His constant learning and growth brighten each day, and I believe he's one of the kids who could change the world. Declan is a happy, easy-going mama's boy. He's quite the charmer, quirky, and always has so much to say. I look forward to seeing how his personality unfolds with age.
My teachers at Youville have been so helpful. They really want me and the other girls to graduate, so they're incredibly flexible and accommodating to our needs, schedules and learning abilities. It's an environment where they set each one of us up for success. And thanks to them, I'm back on track…
I'm thrilled to say that I'll be graduating this year, which is way faster than I had ever expected!
I've been dreaming of this day for so long now and I have a big goal in mind that I want to accomplish. My plan is to go to college for community studies, so that I can become an addictions counsellor. I want to help other people, like the counsellor at Youville who has helped me.
I'm really excited for the holidays this year. My boyfriend loves Christmas and we try to make it special for the boys because our families always made Christmas so special for both of us growing up. Lots of decorating, lots of food and baking, putting up the Christmas tree and watching Christmas movies.
And Youville goes all out for us moms and babies over the holidays! We'll have a big holiday meal, we get lots of nice presents and we can choose from donated gifts for our children, which is so nice because we don't have to spend too much to give our kids the magical Christmas they deserve.
As I sit here writing this letter to you and reflecting on my journey, I can't even believe how much I've accomplished in this last year. Before coming to Youville, I felt stagnant, but now, I feel as though I'm actively pursuing my life and making significant progress toward my goals.
Thanks to Youville, and thanks to the kindness of strangers like you, I feel like I've reconnected to my core true self – and honestly, I'm so overjoyed about that.
But without your generous support, Youville simply wouldn't exist…
And I can't even begin to imagine what our lives would look like today without it.
As I think about my younger self, that vulnerable 14-year-old girl who struggled deeply with life's challenges, I'd share this message with her now: "You are not defined by your struggles. You're better than the life you're choosing. A world of possibilities is waiting for you, and with help, you'll find it."
Without even knowing me, you chose to help – and for that, thank you. My wish this holiday season is for even more young moms and their babies to receive the vital support that Youville Centre provides.
Your special holiday gift right now will make a world of difference by providing the three essential elements that pave the way for a brighter future for young moms and their children: education, childcare, and crucial mental health support.
Thank you again for being part of my journey through your caring support and for giving my children and me hope for a brighter tomorrow.
Happy Holidays to you and your loved ones!
Hannah,
Youville Centre client and mom to Isaac (21 months) and Declan (10 months)
P.S. Please share a special holiday donation with Youville Centre today to empower young moms, like myself, in achieving their high school education goals, while providing them with essential mental health and parenting support to help them unlock a world of possibilities – for two generations!
P.P.S. Don't forget! All donations made by December 31st will qualify for a 2023 tax receipt – please give as generously as you can!