In the Spirit of Truth and Reconciliation, Youville Centre would like to acknowledge that the land on which we inspire, educate and nurture, is the traditional unceded territory of the Algonquin Anishinaabeg People. On this land, on June 18, 2021, Youville Centre hosted their 33rd graduation ceremony, along with M.F. McHugh Education Centre and St. Nicholas Adult High School. 
Due to the current circumstances of the Covid-19 pandemic, this year's graduation ceremony was once again held in a very different format as we prioritize the health and wellness of our community. Graduates were seated two meters away from each other, and a maximum of two guests were invited per person. Guests were, however, asked to remain outside and only permitted indoors, wearing a mask, to watch their loved one walk across the stage. The ceremony was live streamed and a private link was shared to families and Youville Centre staff for them to be able to view this exciting day. We will have a video of the ceremony to share with graduates, staff, and bursary donors soon.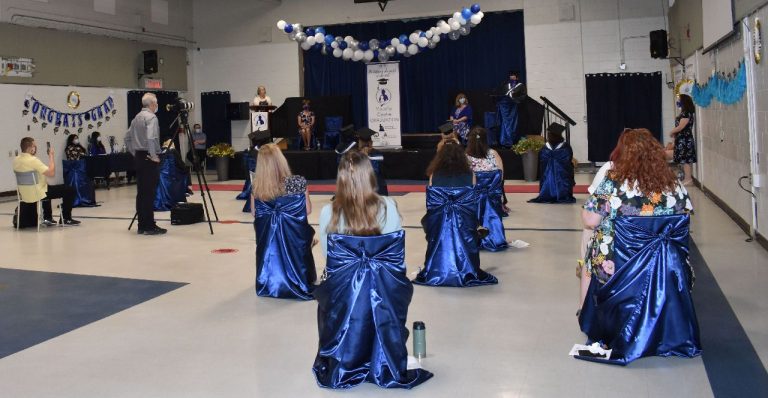 We welcomed M.F. McHugh teacher Amanda Brown (former lead and math/science teacher at Youville Centre), as our Master of Ceremonies. Amanda introduced our graduating class with virtual video greetings from many dignitaries, who gave inspiring messages of congratulations:
Honourable Mona Fortier, Member of Provincial Parliament for Ottawa-Vanier;
Lucille Collard, Member of Provincial Parliament for Ottawa-Vanier;
Mayor Jim Watson, City of Ottawa;
Councilor Mathieu Fleury, Ward 12 – Rideau/Vanier;
Cindy Simpson, OCSB Trustee for Zone 10: Rideau-Vanier/Rideau-Rockcliffe/Somerset and former Executive Director of Youville Centre;
Tom D'Amico, OCSB Director of Education;
Manon Seguin, OCSB Superintendent of Special Education and Student Services; and
 Shailja Verma, Youville Centre Board President.
A message from Executive Director Bev MacKillop followed. Bev began by acknowledging how our 2021 graduates have strived to achieve their goals in the face of obstacles and uncertainty amid the second year of the Covid-19 pandemic.
"It is especially important to highlight that during this difficult time, our graduates have shown high levels of resiliency and tenacity. It is not easy to accept that your child's educators spend the day with them in full PPE. It is not easy for a mother to nurse their baby in-program in full PPE. As Youville Centre's expansion project began, our graduates had to study amidst the construction noise. Last but not least, our graduates had to pivot and adapt to the ever-changing Covid guidelines that affected both their children's, and their own, daily lives."
Bev ended with a powerful note on the growth we have all seen in our graduating class:
"At Youville Centre, we often speak of personal transformations and the courage to make changes in our lives. I can confidently speak of your courage and personal growth. The Diploma you will hold in your hand today is one of the many keys you will need when you leave us. Everyone at Youville Centre wants to make sure that you never let challenges keep you from doing what you know in your heart you were meant to do. It is indeed a privilege to share in this celebration of personal accomplishment. By choosing to come to Youville Centre, you chose to continue your fabulous quest to be the best moms ever. We see evidence of the beautiful relationships you have with your children every day. We asked so much of you and you continued to exceed our expectations […] we are so very proud of each of you! Congratulations Class of 2021."
Nicola Benton, Principal of MF McHugh Education Centre, on behalf of both education partners, was next to speak. Bev's message about hard work and personal growth strongly compliments Nicola's address to the future:
"…Never has a graduating class been called to step into the future with more purpose, vision, passion, and energy and hope […] I wish I could tell you I know the path forward. I don't. There is so much uncertainty. In truth, there always has been. What I do know is that the same perseverance and imagination that got you to this moment today — all those things are the very things that are going to sustain you through whatever is coming. It's vital that you learn to be at peace with the discomfort of stepping into the unknown. It's really OK to not have all the answers. The answers will come for sure, if you can accept not knowing long enough for new thoughts and plans to take root."
Each year, we have an alumna of Youville Centre come back to speak to our graduates about their journey, and to share words of wisdom for the days and years ahead. This year, our speaker was Tamara Takpannie who graduated from Youville Centre in 2014. Our virtual ceremony greetings conclude with Tamara sharing a special message to our graduating class.
Finally, our 10 graduates walked across the stage, one by one, to receive their diploma. Their teachers prepared personal anecdotes to share, and bursary awards were announced.
M.F. McHugh Education Centre Principal's Award
Taylor Lalonde was the proud recipient of the M.F. McHugh Education Centre Principal's Award. The Principal's Award is given to a student who has exemplified academic persistence, and a dedication to their own learning. Each and every day, Taylor demonstrated the M.F. McHugh standards of growth mindset, pathway building, and project-based learning. She has successfully demonstrated how working hard and advocating for herself can lead to accomplishing her goals. Congratulations, Taylor!
Samantha Nadon-Gray was selected as the Spirit of Youville Class of 2021. Our Spirit of Youville student was chosen because she embodies the Youville "voice". Over her time at Youville, Sam has demonstrated personal growth, leadership skills and academic perseverance while developing her parenting skills along the way. These were her parting words to her peers:
"As we walk through these doors for the last time as students, we remember how empowered and how motivated we were at Youville. Let us remember how much we accomplished and how much we will go on to accomplish and may we remember that no matter how much our mental health tests us, we are all strong and we are stronger as one. We came here with one goal and that's to do better for yourselves and our children and we did that today. Today we are graduates."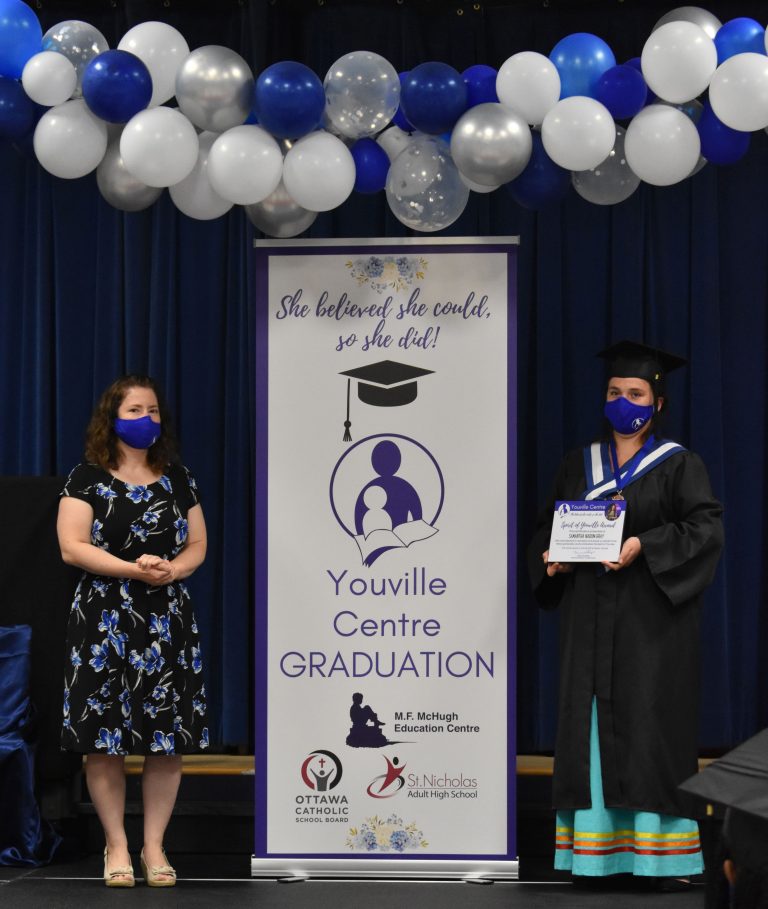 Alumnae and Second Generation Bursary Awards
Next, Alumnae and Second Generation Bursary Award recipients were presented. These award winners are typically invited to our graduation ceremony, but due to the impacts of the pandemic, the recipients were given their awards in advance. More information about Alumnae and Second Generation Bursaries, and our 2021 recipients, including photos, can be found on our Alumnae Bursary website page here: http://www.youvillecentre.org/our-impact/alumnae-bursaries/
Thank you, to every one of our bursary donors, and special thanks to those who have continued to provide bursaries for our graduates for multiple years. These donated bursaries make a huge impact on two generations, as our graduates pursue their post-secondary education and create a better life for themselves and their children.
Youville Centre Angel Awards 2021
Over the past few years, Youville has coined a phrase to describe those who go above and beyond to support our young moms – they are our "Youville Angels." Our Angel Awards are presented to people who have touched our hearts. Although we have celebrated 31 Angels in our history, each and every Angel has made life better for our moms and their children in a very special way. This year's recipients are no exception. Unfortunately we were not able to present these awards in person at our graduation ceremony. They were instead given in advance the week prior.
Our recipients this year are: our local City Councillor, Mathieu Fleury and Kelly Rasmussen of iSisters Technology Mentoring. It is our honour to present you both with a Youville Angel Award this year.
More information and photos of our 2021 Angel Award recipients can be found on our website here: http://www.youvillecentre.org/partners-and-donors/the-youville-angel-awards/
Following the announcement of the Angel Awards came closing remarks from Bev. It truly has been a busy year. We will always remember how the pandemic has impacted our lives, but through it all, the bigger picture shines – to our beautiful and hardworking young mothers and their children, YOU are the reason we come to work every single day.
Many thanks to our dedicated staff in the Child Development Program, Intensive Treatment Support Program, Support Staff and Teachers for supporting our clients through their journeys and for the extensive planning and effort involved in making this day a great success!
Congratulations Class of 2021!